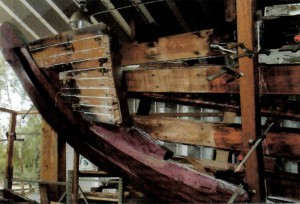 Due to the inevitable deterioration of the wood hull, the structural beams and the iron fastenings and rigging, the Lady Ada is in need of major restoration in order to bring her in compliance with the Coast Guard and California State Vessel Requirements. The Foundation's  number one goal is to raise enough funds to complete the restoration of The Lady Ada. At the end of the restoration period the Lady Ada will again be at full sailing capacity, and she will be in full compliance with state and federal regulations.
The fundraising and full restoration is projected to take about 5 years, and The Lady Ada should be ready for launch in or about December, 2013.
Once launched, The Lady Ada will be used for various projects available to the public, centered around youth seamanship training. The Lady Ada will be docked and operated out of various ports along the Southern California Coastline.
The post restoration operations of the foundation will be funded by user fees paid by the youth groups, the ongoing fundraising activities of the Board of Directors, and by a separate fundraising advisory committee composed of dedicated and interested persons.
SPECIFICATIONS
VESSEL: LADY ADA
HOME PORT: LOS ANGELES, CA
TYPE: CLASSIC WOOD LESTER STONE DIESEL AUXILIARY CENTERBOARD SCHOONER
YEAR BUILT: 1903
OFFICIAL NO.: 216933
LOD: 67' 0"
L SPARRED: 87' 0"
BEAM: 16' 6"
DRAFT: 5' 6" (13' CENTERBOARD DWN)
DISPLACEMENT: 38 NET TONS
BALLAST: 7 TONS
DESIGNER: LESTER STONE
BUILDER: STONE SHIPYARD, ALAMEDA CA
COMMENTS: RESTORATION IS PROCEEDING USING THE FINEST OF METHODS AND MATERIALS.
CONSTRUCTION: WOOD, CARVEL PLANK ON FRAME.
HULL: DOUBLE PLANKED VERTICAL GRAIN DOUGLAS FIR OVER KAPUR ABOVE THE WATERLINE AND KAPUR BELOW THE WATERLINE. EPOXY GLUED AND SATURATED. FRAMES ARE LAMINATED KAPUR.
KEEL: DOUGLAS FIR, IRON BALLAST, PLYWOOD CENTERBOARD AND PURPLE HEART STEM.
RUDDER: STACKED KAPUR, BRONZE GUDGEONS AND STRAPPING, WOODEN POST.
DECK: LAID/CAULKED VERTICAL GRAIN DOUGLAS FIR EPOXY GLUED AND EDGE NAILED. TOP IS V-GROOVED FIR, MARINE PLY AND FRP OVER.
CABIN: LAMINATED MARINE PLYWOOD OVER KAPUR STANCHIONS.
CABINETRY: MAHOGANY PLYWOOD AND TRIM.
RIG: KEEL STEPPED MASTS, SOLID DOUGLAS FIR SPARS, 7×19 STAINLESS STEEL WIRE ROPE STANDING RIGGING WITH SPLICED ENDS AROUND THIMBLES, LANYARDS AND TEARDROP DEADEYES. BOBSTAY IS CHAIN AND SPRIT SHROUDS ARE SWAGGED 1×19 STAINLESS STEEL AS ARE THE MAIN RUNNING BACKSTAYS. ALL RUNNING RIGGING IS SYNTHETIC.