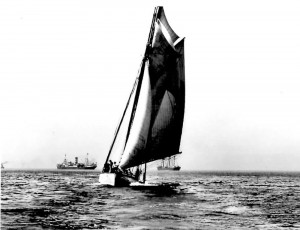 Lady Ada is the name of an 87 foot long wooden schooner. The Lady Ada was built in San Francisco Bay in 1903 by Stone Shipworks. This schooner is of particular interest in that it was an exceptionally well built wooden sailing ship, and she is very well known  amongst wooden ship experts. The Lady Ada has been donated to and is now owned by the Lady Ada Foundation.
History
WHO WAS LADY ADA RACING JULY 23, 1912?
Follow this link: You'll love the read, it's as if you're there and She is on the waves…
http://cdnc.ucr.edu/cdnc/cgi-bin/cdnc?a=q&hs=1&r=1&results=1&txq=schooner+lady+ada&txf=IN&ssnip=txt&o=20&dafdq=&dafmq=&dafyq=&datdq=&datmq=&datyq=&puq=&e=——-en–20–1–txt-IN-lady+ada—-
IF THIS LINK DOES NOT DELIVER GO TO:
http:/www.cdnc.ucr.edu/ and then type "Schooner Lady Ada"
in the Search Box.
LADY ADA Circa 1970's courtesy of Scott Holcomb